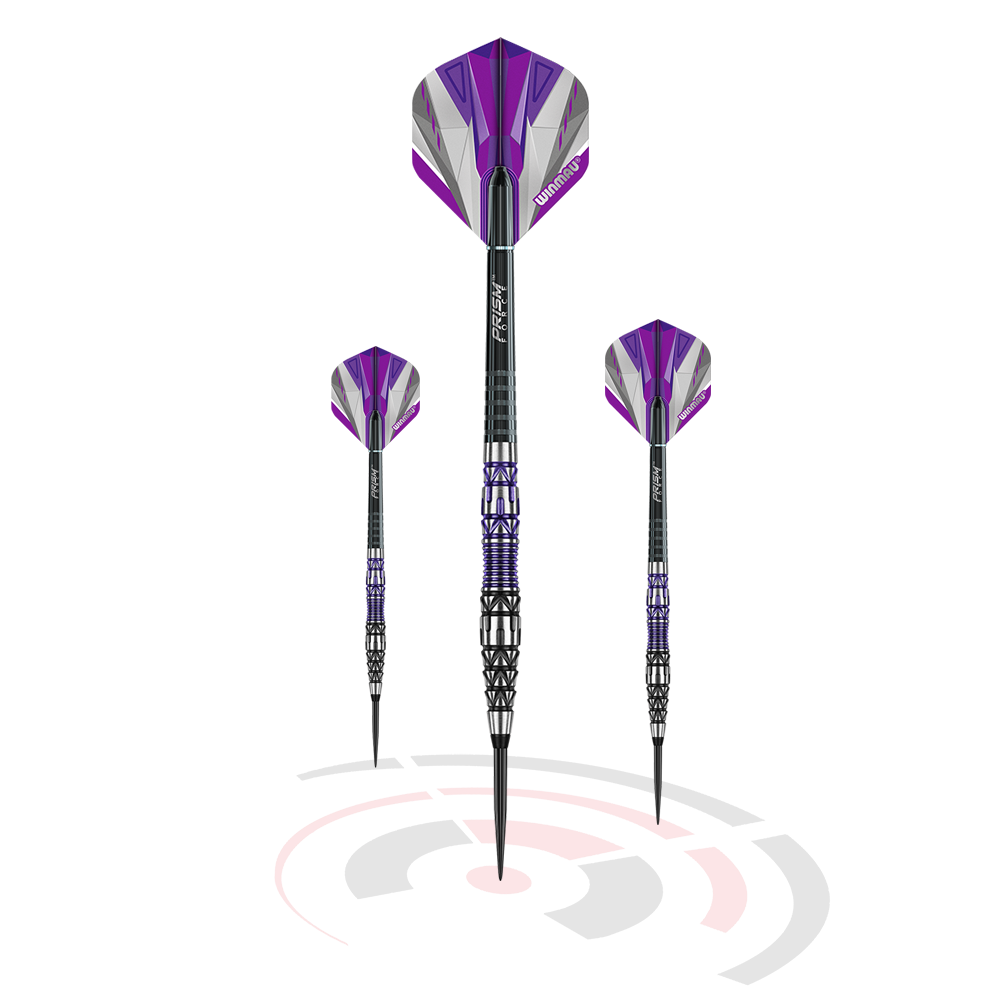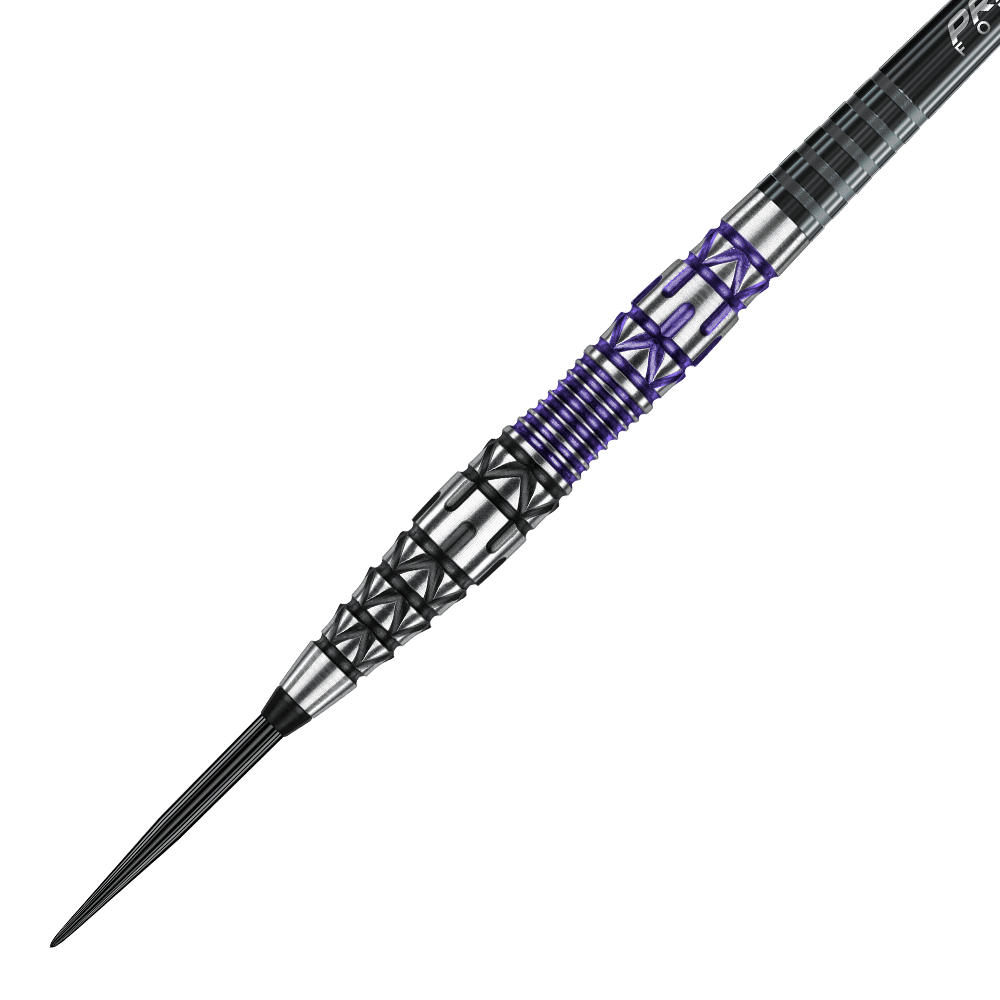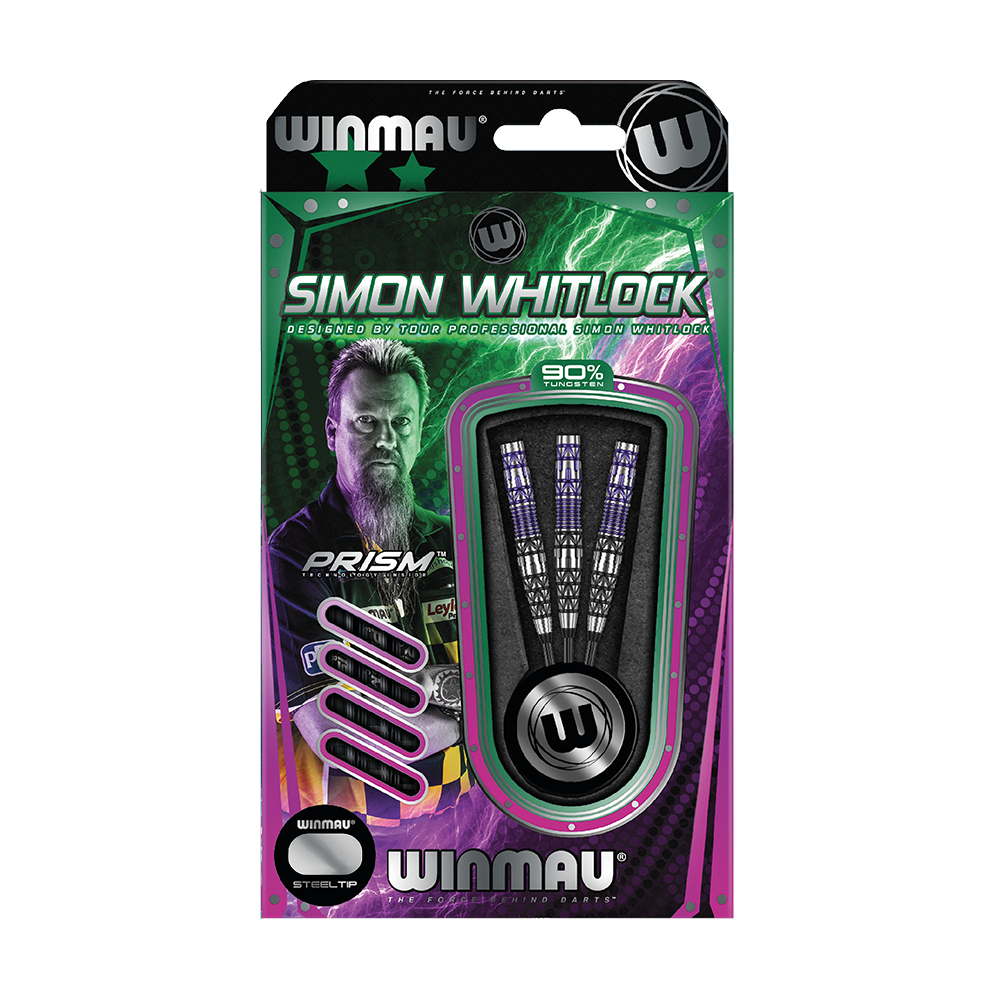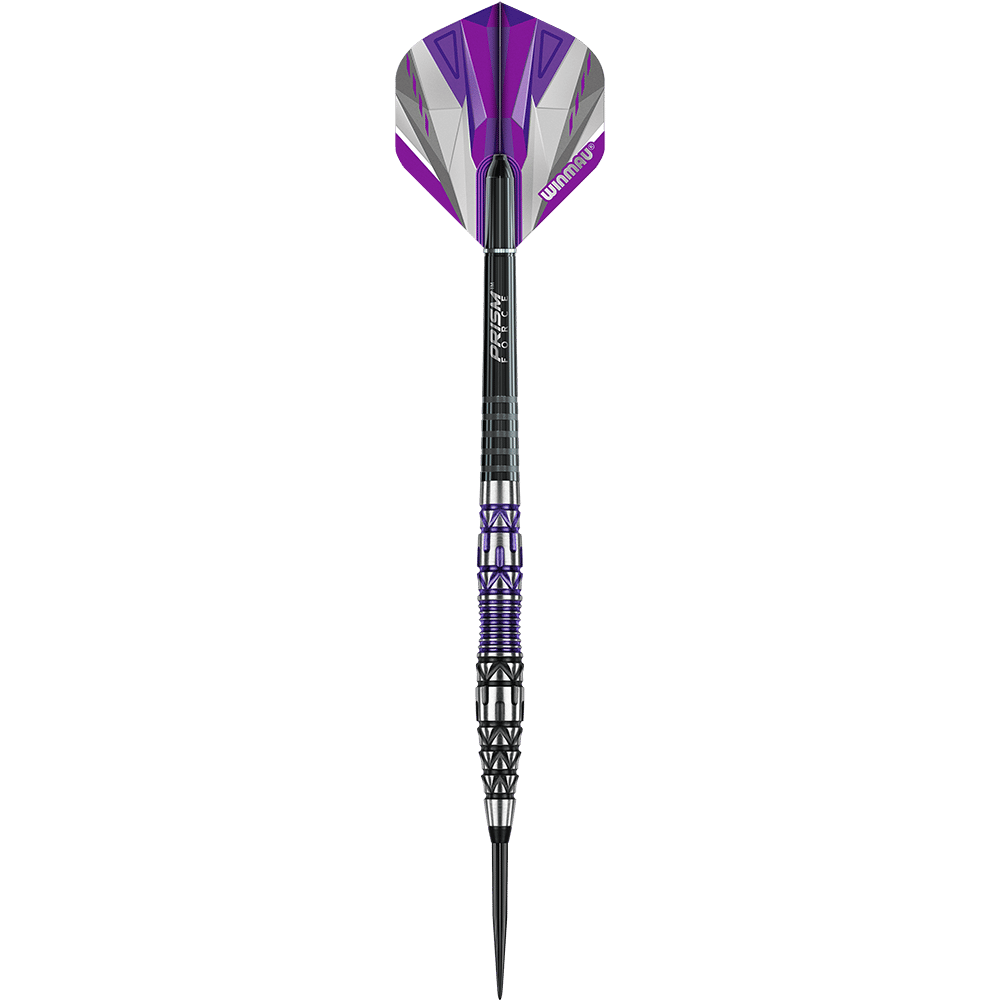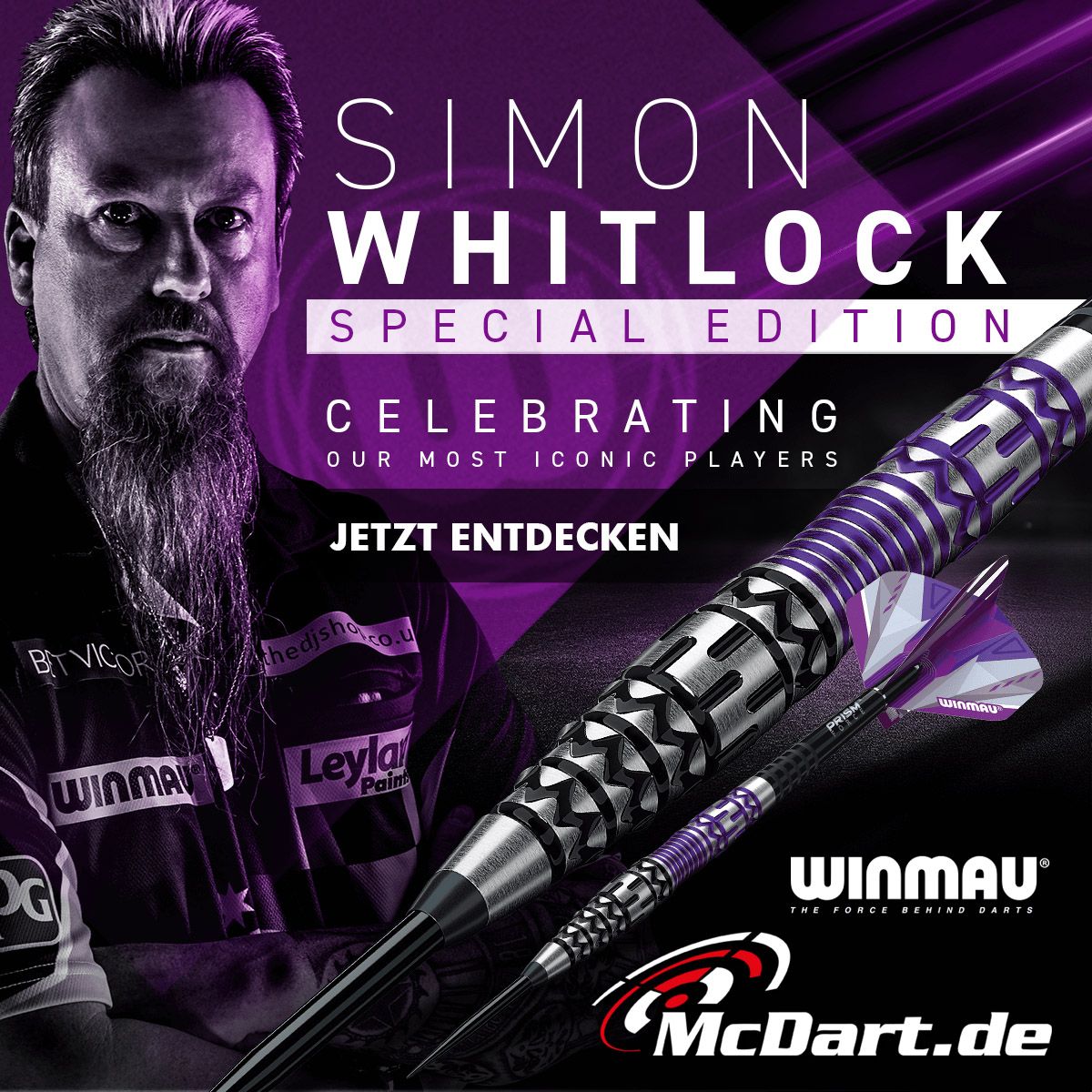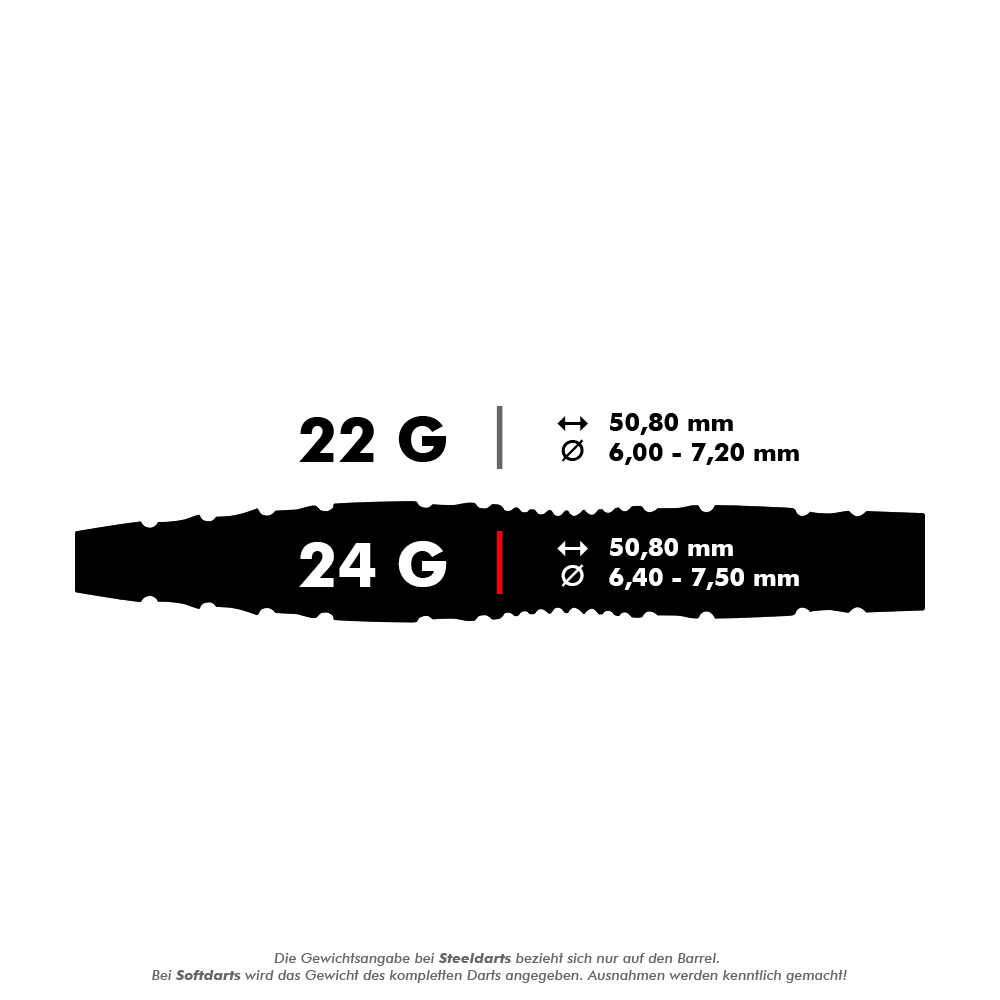 Product Information "Winmau Simon Whitlock Special Edition 2020 steel darts"
Winmau Simon Whitlock Special Edition 2020 steel darts with a tungsten content of 90%.
The special edition by Simon "The Wizard" Whitlock expands the color palette of darts with their purple vetalic coating. Not only the coloring of the darts has been adjusted, the grip has also changed significantly. Due to the vertical and horizontal millings, this dart has a comfortable grip level.
What hasn't changed is the typical form Simon Whitlock has been playing darts with for years. the special teardrop shape offers a good reference point thanks to the recessed grip in the middle.
The set comes with black Winmau Prism Force Shafts and Winmau Prism Alpha Flights.
Dimensions

weight

22g

24g

length

50.80mm

50.80mm

O

6.00 - 7.20mm

6.40 - 7.50mm
You can find our test of the darts on our YouTube channel or directly here:
---
Liegt gut in der Hand und fliegt gut.
Durch die Griffmulde einen super Anhaltspunkt, um die Darts immer wieder gleich in der Hand zu haben. Für mich war auch besonders der Grip vor der Griffmulde wichtig, da mein Zeigefinger vor dieser liegt und es passt für mich perfekt. Habe super Kontrolle
Top spielgerät jederzeit wieder
Klasse Darts...............
Gut verarbeiteter und hochwertiger Dart. Wenn man bisher irgendwelche Darts gespielt hat merkt man sofort einen Unterschied. Stecken super im Board, hab quasi keine Bouncer mehr. Form des Barrels ist etwas gewöhnungsbedürftig, ich komm mit meiner Wurftec
Top Qualität... eben Winmau.
Darts sind für meine Begriffe Klasse. Ich Spiele sie seit knapp einem Jahr und habe mir den Satz jetzt nochmal als neu geholt. Liegen gut in der Hand, sind aber nicht für jeden etwas. Die Griffmulde ist für mich sehr angenehm und ich komme super damit
Tolle Ware, liegen gut in der Hand
Tolle darts ,,,, ,,,,,,,
Das Barrel ist super und wie gewünscht. Leider sind die mitgelieferten Schäfte so das trotz Ringen die Flights immer wieder herausfallen, da gibt es echt bessere.
Prices are for one set
(1 set = 3 pieces)
The Wizard - Special Edition Darts von Simon Whitlock aus dem Jahr 2019
Ausführung - Komplettset Steeldarts mit 22 oder 24 Gramm Barrelgewicht
Material - 90 % Tungsten (Wolfram)
Barrelform - Torpedoform mit mittig liegendem Schwerpunkt
Hersteller - Winmau - The force behind darts
Ready for shipment, delivery in 1-3 days.
Delivery, Friday, 29.09.23 - Monday, 02.10.23
Order & pay within hours and minutes