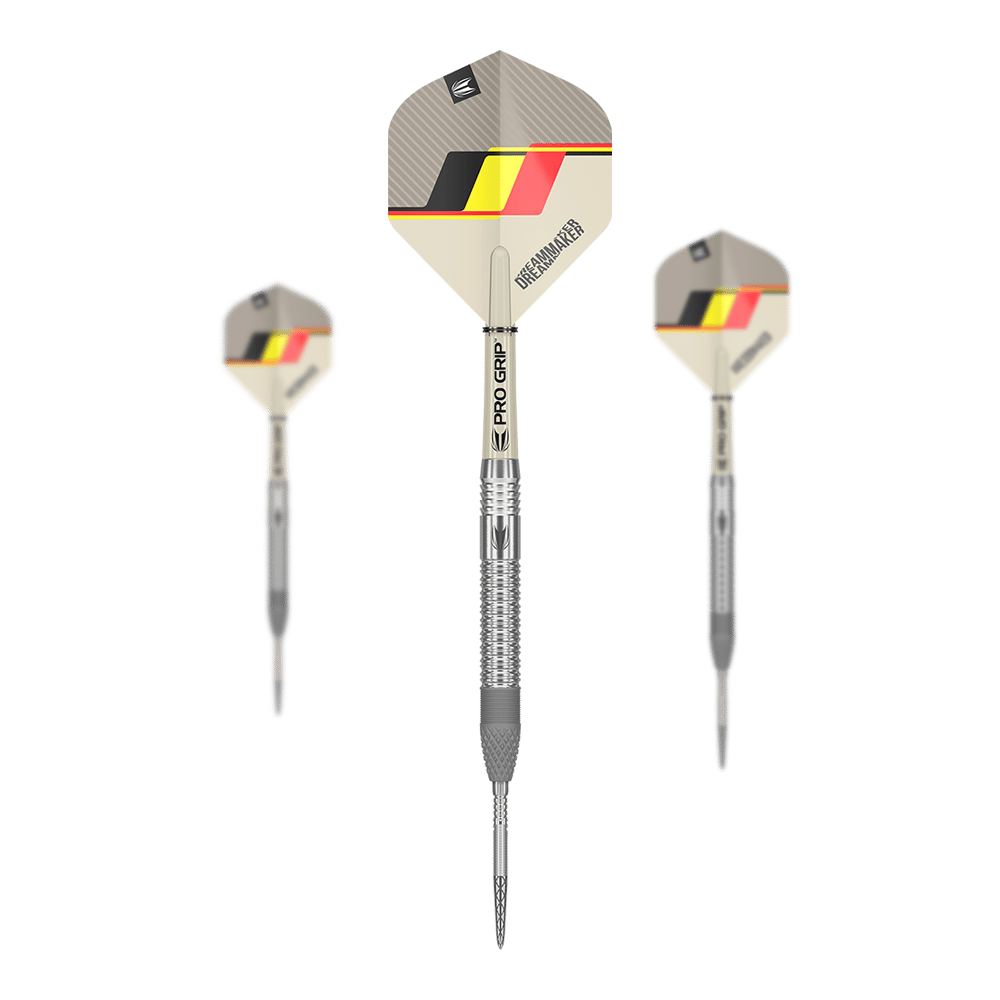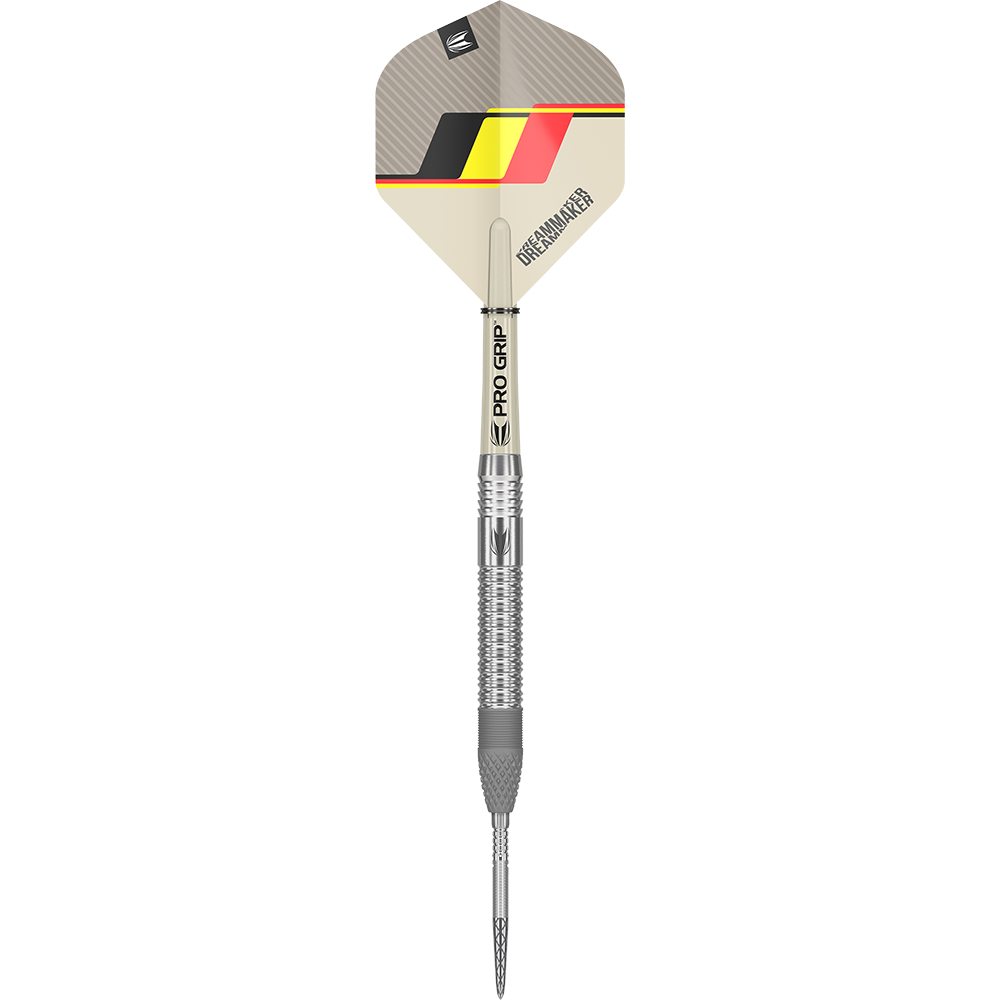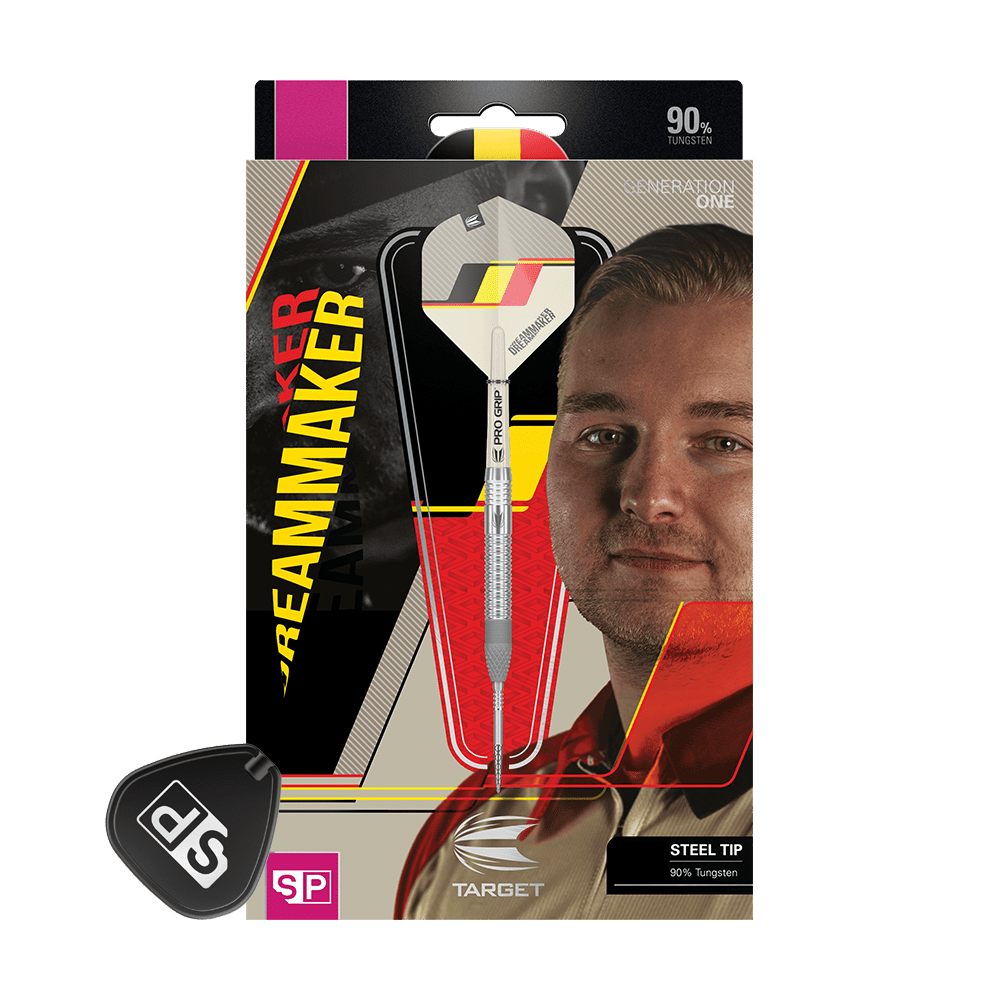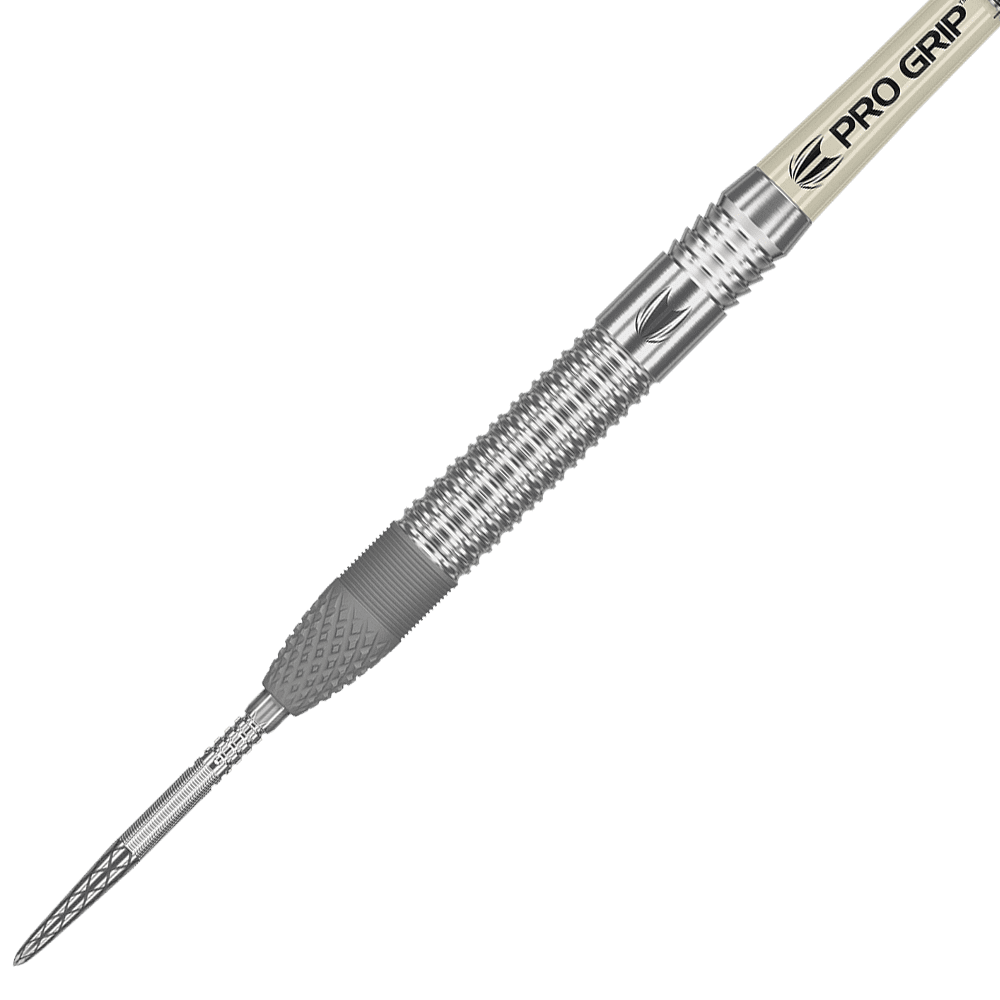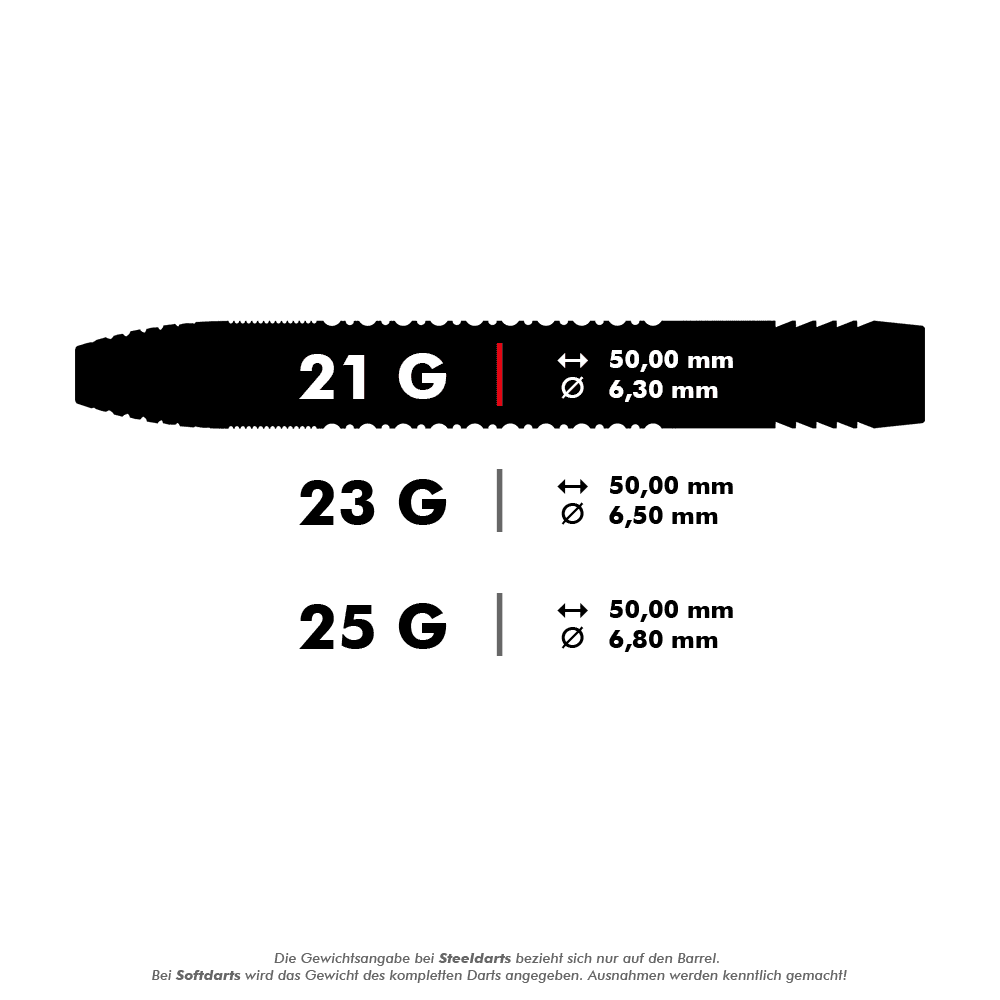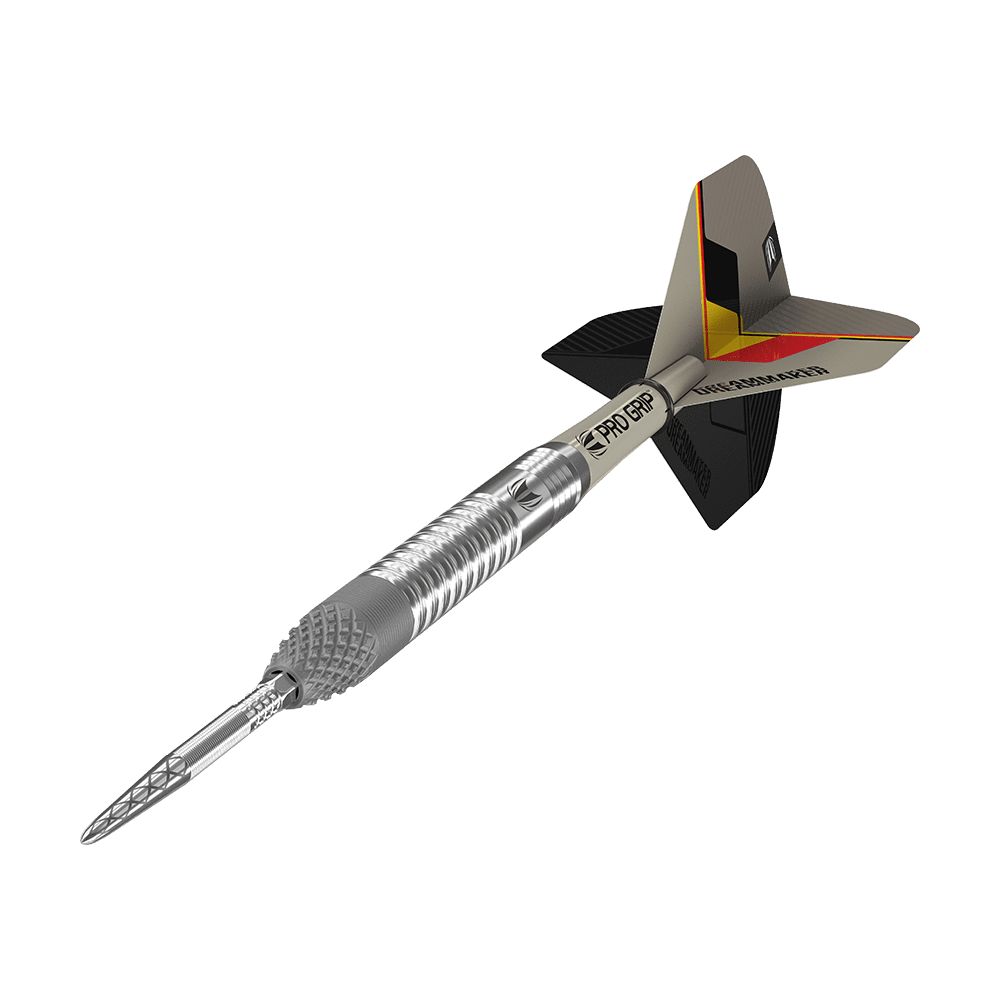 Product Information "Target Dimitri Van Den Bergh Generation One Swiss Point steel darts"
Target Dimitri Van Den Bergh Generation One Swiss Point steel darts with a tungsten content of 90%.
The DVDB Generation 1 was developed in close cooperation with the Dreammaker and is precisely tailored to its needs. The result is a uniquely designed dart that has a variety of grip shapes. The straight barrel converges at the tip and has cross-milled grooves in the middle and back. Accurate sandblasting gives the dart an interesting two-tone look.
Swiss Point is a patented tip system that allows you to change tip length, style and color in seconds. Even a metal tip can break if it hits the board unfavorably. This can happen after the first throw or the thousandth throw. With the Swiss Point System this is no longer a problem! A strategically placed groove ensures broken tips can be easily removed. The pocket-sized Swiss Point Tool is all you need to remove and install points. An ingenious locking system with cone and thread technology ensures that your tips do not come loose during play. Swiss Points are only compatible with Target Darts SP Barrels!
With us you will find a wide range of Swiss Point interchangeable tips !
The set comes with sand-colored Target Pro Grip Shafts (Short) and Van Den Bergh Flights.
Dimensions

length

O

21g

50.00mm

6.30mm

23g

50.00mm

6.50mm

25g

50.00mm

6.80mm
---
Perfekter Dart!!! (für mich)
Ich kann diesen Dart einfach jeden empfehlen! Egal ob geübt oder Einsteiger dieser Pfeil hat denn perfekten grip für sehr viele griff typen ich spiele denn Pfeil jetzt knapp 2 Monate und bin echt begeistert! Auch andere Spieler die diesen Dart spielen, haben zu mir bis jetzt noch überhaupt keine negative punkte nennen können.
Ready for shipment, delivery in 1-3 days.
Delivery, Saturday, 09.12.23 - Tuesday, 12.12.23
Order & pay within hours and minutes