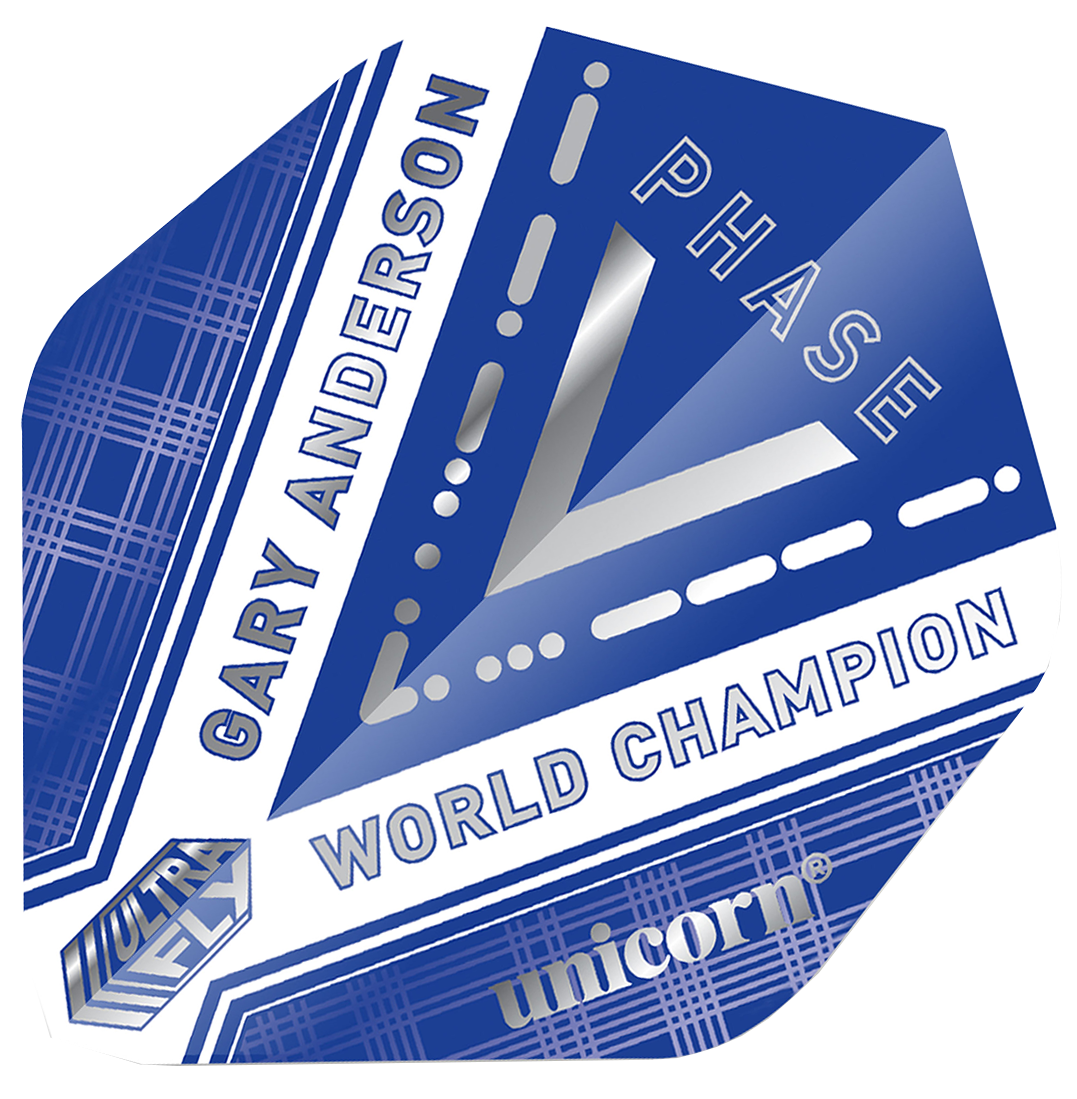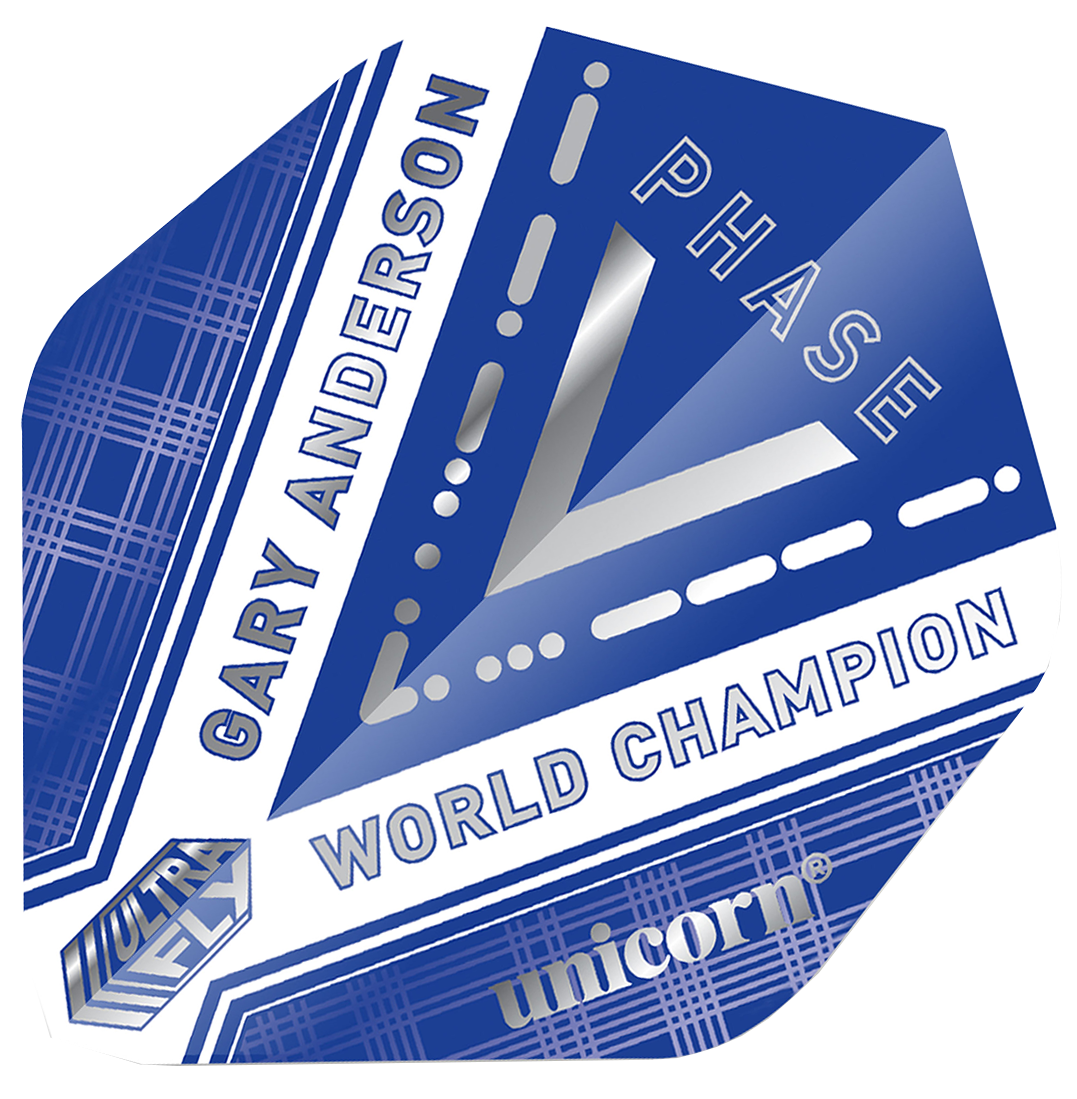 Product Information "Unicorn Ultrafly 75 Ar1 Gary Anderson WC P5 Flights"
Unicorn Ultra Fly 75 Gary Anderson World Champion Phase 5 Flights, die neueste Flight Generation von Unicorn in Spitzenqualität, in der Schnittform AR1.
---
No reviews found. Go ahead and share your insights with others.
Prices are for one set
(1 set = 3 pieces)
Free shipping from EUR 40 (within Germany)
Fast delivery
over 4800 products in stock
Ready for shipment, delivery in 1-3 days.
Delivery, Monday, 25.09.23 - Wednesday, 27.09.23
Order & pay within hours and minutes
More from

Useful information and fun facts to go :
The company's advertising slogan is "The Big Name in Darts"
The Unicorn Group not only offers darts products, but also a variety of products for other sports such as cricket, snooker, hand and basketball.
By 2022, darts players under contract with Unicorn have already won 26 world championship titles.
The Unicorn company was the first company to sell darts sorted by their actual weight. This is the industry standard these days thanks to Unicorn! Additionally, they revolutionized the use of tungsten alloys in the manufacture of darts, making darts significantly slimmer. The company has become an integral part of the history of darts. That's why you were the partner and major shareholder of the PDC for a very long time.
Steel dart boards :
In the field of steel darts boards you have been on the road for years and have constantly developed improved models. Everything is included here, from the entry-level model to the luxury model. The currently most popular unicorn dartboard is the . Unicorn has developed something unique especially for professionals on the PDC tour and darts enthusiasts who love to travel. The Unicorn On Tour Package. With this you can easily attach your dartboard to the hotel door and start training at any time. So no one has to do without darts on vacation. To further improve the training effect, there is also the Unicorn Eclipse HD Trainer Board. Here the double and triple segments are deliberately reduced so that training can take place more effectively.
Unicorn darts :
Of course, such a large manufacturer should not be without its own darts. Unicorn offers a wide variety of grip types, weight classes and barrel shapes in both steel and soft darts. There really is something for everyone here. The following darts are very popular with steel darters: Unicorn Gary Anderson 180 Special Edition Steel darts - 23g, Unicorn Pro-Tech Style 1 Steel darts - 22g, Unicorn World Champion John Lowe Phase 3 Steel Darts - 23g. In return, the E-Darters prefer to play with these darts: Unicorn Gary Anderson 180 Special Edition Soft Darts - 21g, Unicorn World Champion Natural Phase 3 Gary Anderson Softdarts - 18g, Unicorn Gary Anderson Code Players Softdarts - 18 g Unicorn also offers very special "code" darts. With these darts, the name of the professional is worked into the grip via Morse code. A unique method that only Unicorn offers! Code Darts
Unicorn Flights :
The creative department was allowed to let off steam to their heart's content with the flights. Visually, there is something for everyone here. There are hundreds of different designs of flights, for example suitable for darts professionals or in the 4-motif design, in which each side of the flight has a different pattern. Together, all 4 sides of the flight then form a pattern or saying. Here you can click through for hours and always find something new. The absolute hits are currently the Unicorn Ultrafly Michael Smith World Champion Big Wing Flights
Cooperation with professionals :
The Unicorn company has some big calibers under contract. Top stars of the scene such as the two-time world champion Gary Anderson, the bully boy Michael Smith or the up-and-coming Callan Rydz are outfitted by you. With such a historic brand, darts legends are also under contract. John Lowe MBE has enjoyed working together for more than 40 years. All Unicorn pros together have already won more than 350 PDC tournaments. An incredible value! You have developed merchandise and individually designed darts articles for many of these players. Ideal for every fan.
Read more